Project Gigabit. Is it doing enough?
Project Gigabit is the Government's flagship policy to get the UK as a whole better connected.
But is it actually helping those who have got the worst current broadband speed and who therefore are those most in need of help?
Digital connectivity has never been more important. As more and more parts of our lives involve us being online, access to fast and reliable broadband is by now as important as water, gas or electricity.
However, there are still hundreds of thousands of homes and properties trapped on the wrong side of the Digital Divide that just can't access usable internet.
What's going on in your local area?
Do you think you're living in a broadband not-spot? Find out where your local authority ranks in terms of the availability of good broadband and whether your region has received any funding under the Government's Project Gigabit Scheme.
Want to know the state of broadband where you live and how much Project Gigabit funding has been allocated to your region?
Just start typing the name of your local authority below and then select it from the list
What is the Government doing?
Simply not enough.
The Government's approach to improving internet connectivity across the UK is focused on rolling out full fibre broadband. Sadly, this approach leaves far too many properties behind. Tell me more...
Is Project Gigabit helping everyone?
Unfortunately absolutely not.
Project Gigabit funding is simply not being spent on areas where the need is greatest. Tell me more...
Where are the worst UK regions for broadband?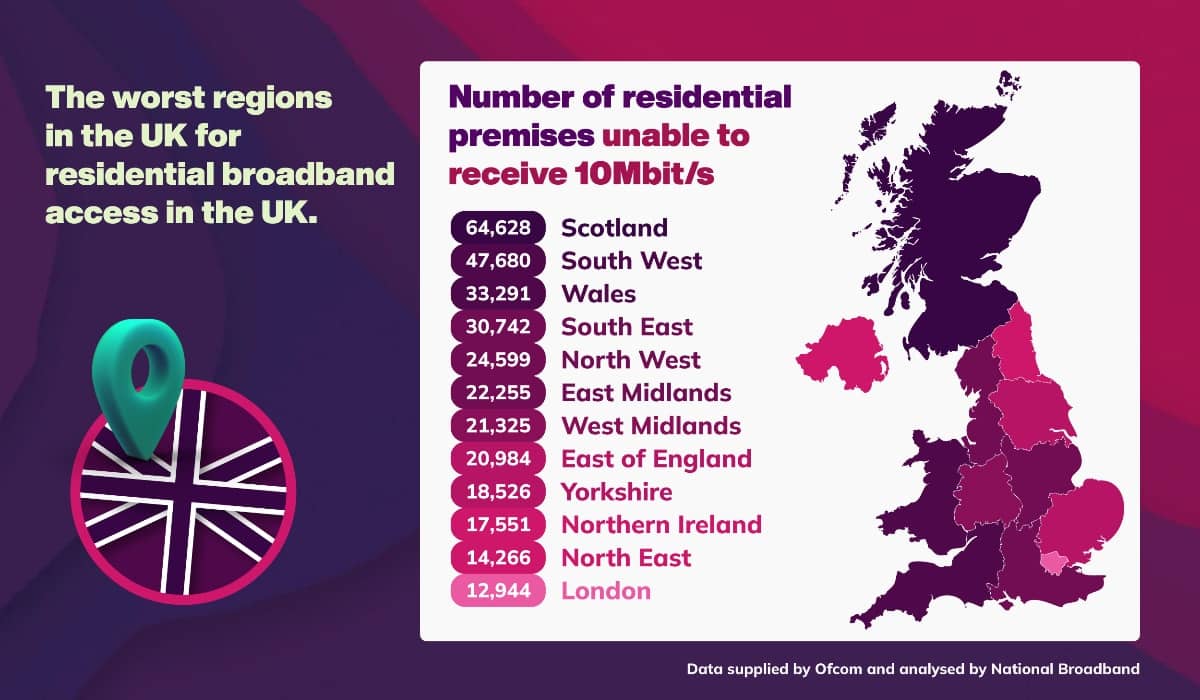 Where are the worst individual locations?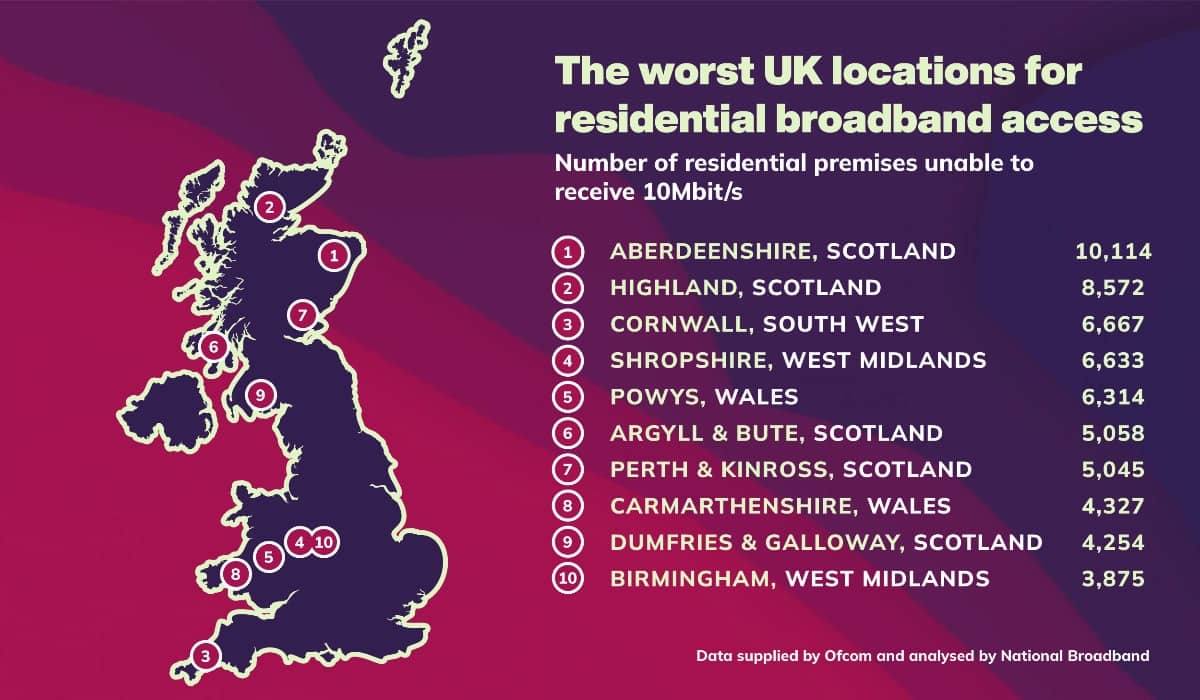 Where is Project Gigabit funding being applied?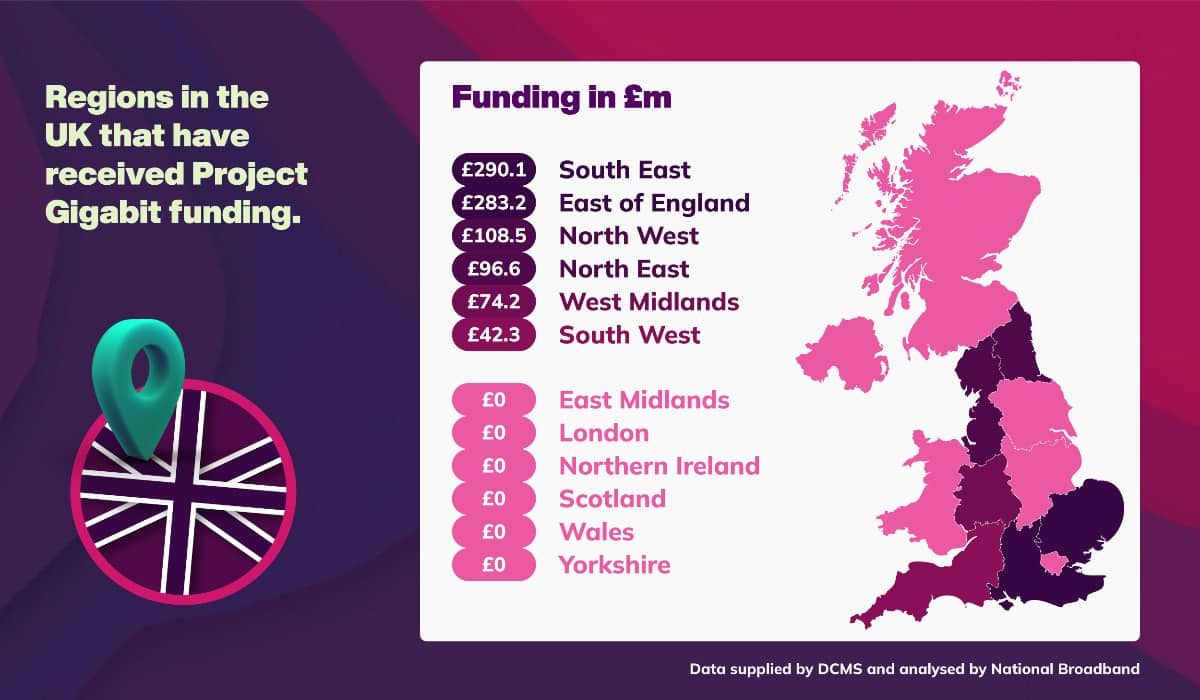 Looking at those UK regions where Project Gigabit funding has been provided to date, there are clear and counter-intuitive disparities in its allocation. Both the South East and East of England have received huge amounts of funding while the South West, which has the worst broadband availability in England, has received significantly less. What's more, there are whole swathes of the country that are yet to receive a single penny.
This is hard to understand, to say the least. We acknowledge that budgets are always going to be limited - but surely it would make far more sense to spend public funds on those areas where the needs are greatest and thus where the biggest positive changes to people's live could be made.
Is there anything that you can do?
If you're stuck with unusably slow landline broadband with no sign of any infrastructure upgrades being made in the near future (if ever), are there actions that you can take to improve things? The short answer is absolutely yes.
Check Out Our 4G broadband Solutions
If you're struggling with poor connectivity where you are, there are alternative broadband delivery technologies available right now that can dramatically improve your broadband. Tell me more...
Lobby The Government To Take Action
We don't think that the Government's broadband policy makes sense, because it fails to offer any real help to those who have currently got the poorest landline connectivity.
That's why we've launched our petition calling for funding for alternative broadband solutions to be made available to poorly connected areas falling outside the scope of Project Gigabit. Tell me more...
Don't just take our word for it - here's what our customers think